Session 7 Court 1: 2 PS2 matches inc. AUS & NZL
M&S Bank Arena, Liverpool.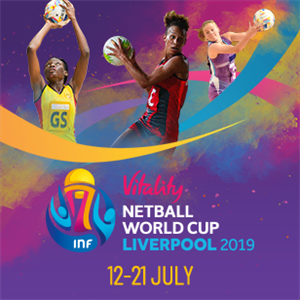 From 12-21 July 2019 the world's top 16 teams will compete to be crowned the best, as Liverpool welcomes the Vitality Netball World Cup.
No matter what you're here for - the thrill of backing your country to the top, a passion for electrifying team sport, a love of feeling part of something momentous, or simply to have fun with friends - there's a piece of Vitality Netball World Cup 2019 for you.
Click here for full tournament schedule.
Opening Ceremony
Tickets for session two (both courts) on Friday 12 July include the opening ceremony.
More information about Session 7 Court 1: 2 PS2 matches inc. AUS & NZL tickets
Start: 9am
End: 1pm
Session 7 contains three Preliminaries Stage Two (PS2) matches in Group F and E1 v E2, with two matches taking place on each court. Session 7 will include Australia, New Zealand, Northern Ireland, Malawi, Zimbabwe, Barbados, Sri Lanka and Singapore games. Australia and New Zealand will play on court one with fixtures and other court allocations to be confirmed following conclusion of Preliminaries Stage One.
Preliminaries Stage Two (15-18 July)
In the second stage of the competition, the top three teams from Preliminaries Stage One groups A and B will form group F, and the top three teams from groups C and D will form group G. The bottom four finishers from groups A-D will compete for 13th-16th places in group E.
Where teams in groups F and G have already played each other in the Preliminaries Stage One (i.e. A1 has already played A2 and A3), these results will carry through to the Preliminaries Stage Two.
More information about the competition format can be found
here

Click
here
for full tournament schedule.